Original research article

Open Access
Canadian Otolaryngology - Head and Neck Surgery clerkship curricula: evolving toward tomorrow's learners
Journal of Otolaryngology - Head & Neck Surgery
2013
42:33
Received: 13 January 2013
Accepted: 24 April 2013
Published: 3 May 2013
Abstract
Background
Increasing focus is being placed on Clerkship curriculum design and implementation in light of new undergraduate medical education research and accreditation standards. Canadian Otolaryngology-Head and Neck Surgery (OTOHNS) Clerkship programs are continually but independently evolving towards a common goal of improving Clerkship curriculum.
Methods
An electronic survey was sent to undergraduate OTOHNS directors at all Canadian medical schools (n = 17) examining their Clerkship curricula. Themes included Clerkship format, teaching methods, faculty support and development, program strengths, and barriers.
Results
Survey response rate was 76%. All responding schools had OTOHNS Clerkship programs ranging in type (mandatory, selective or elective) and length (<1 to 4 weeks). Learning modalities varied. Electronic learning tools were identified as increasingly important to curriculum delivery. Common strengths included wide clinical exposure and one-on-one mentoring. Multiple challenges were identified in curriculum implementation and evaluation. All schools expressed interest in developing national standards, objectives and e-learning resources.
Conclusions
Significant variation exists in OTOHNS Clerkship experiences between Canadian medical schools. Many schools perceive barriers of insufficient time, space and curriculum standardization. Interested Canadian OTOHNS educators are eager to collaborate to improve the collective OTOHNS Clerkship experience.
Keywords
Medical EducationLearning ObjectiveLearning ResourceUndergraduate Medical EducationMedical Education Research
Background
The current framework for medical education was forged over 100 years ago when Abraham Flexner, commissioned by The Carnegie Foundation for the Advancement of Teaching, published his report, Medical Education of the United States and Canada: A Report to The Carnegie Foundation for the Advancement of Teaching (Flexner 1910). The report was an objective evaluation of the quality of North American medical school curricula, and his recommendations provided the basis for the structure of medical education in North America and Europe. Despite immense changes in education and medicine, as well as an improved understanding of teaching and learning through rigorous research, there has astonishingly been little change in medical education over the last century [1].
Much has changed in the medical landscape over the last 100 years, and medicine continues to evolve at an ever-increasing pace. In 2004, The Carnegie Foundation therefore commissioned another study of medical education to reflect the current time. Their site examinations and comprehensive review of current medical education and learning sciences research resulted in four recommendations for the future of medical education:
1.

Standardize learning outcomes and individualize learning processes to allow for the integration of new technologies, such as simulation, on-line learning, and mobile learning resources;

2.

Integrate formal knowledge with clinical experience;

3.

Incorporate habits of inquiry and improvement into medical education at all levels; and

4.

Focus on the progressive formation of professional identity [1].
Canada is also a leader in medical education reform. The Royal College of Physicians and Surgeons of Canada introduced the CanMeds Physician Competency Framework roles of residency education, which has become a leading framework worldwide (Figure
1
). More recently, the Association of Faculties of Medicine of Canada (AFMC) released a report entitled "The Future of Medical Education in Canada." This Health Canada-funded, multi-stakeholder project was a thorough review of undergraduate medical education in Canada. The report released in January 2010 compares society's present and future needs with Canadian medical curricula and offers ten recommendations and five enabling recommendations to promote excellence in patient care through reform of the medical education system where needed to better prepare the doctors of tomorrow for the century ahead (Table
1
) [
2
].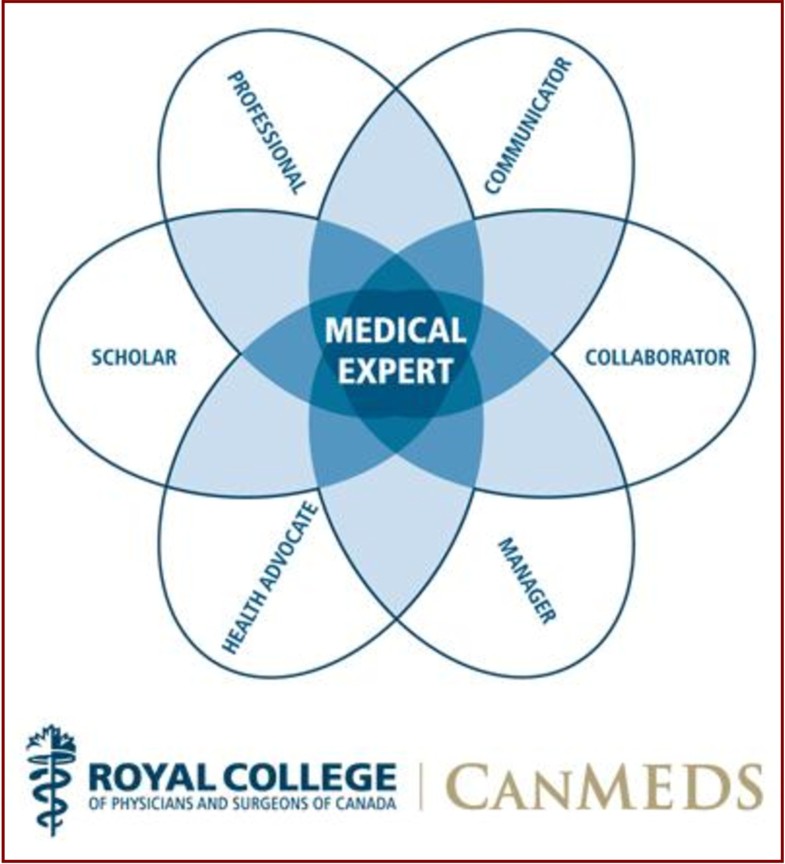 Table 1
FMEC recommendations: a collective vision for MD education
  10 recommendations

5 enabling recommendations

I: Address Individual and Community Needs

A: Realign Accreditation Standards

II: Enhance Admissions Processes

B: Build Capacity for Change

III: Build on the Scientific Basis of Medicine

C: Increase National Collaboration

IV: Promote Prevention and Public Health

D: Improve the Use of Technology

V: Address the Hidden Curriculum

E: Enhance Faculty Development

VI: Diversify Learning Contexts

VII: Value Generalism

VIII: Advance Inter- and Intra- Professional Practice

IX: Adopt a Competency-Based and Flexible Approach

X: Foster Medical Leadership
In light of the Health Canada's recommendations for medical education reform and the globally changing landscape of medicine, subspecialty undergraduate teaching must also be assessed, and areas of strengths, weaknesses and educational gaps identified. The Canadian Society of Otolaryngology – Head and Neck Surgery (OTOHNS) Undergraduate Medical Education Working Group was formed in 2009 by representatives from OTOHNS departments at all Canadian medical schools to advance OTOHNS undergraduate education across Canada by
1.

Creating a national OTOHNS content standards for Canadian medical school graduates;

2.

Developing open access, freely available e-learning resources in OTOHNS; and

3.

Forming a community of practice of OTOHNS medical educators to develop, assess and disseminate educational OTOHNS resources [3].
In this paper we examine the status of OTOHNS education during the Clerkship or clinical teaching years in Canadian medical schools.
Objectives
1.

To review the current landscape of OTOHNS education at the Clerkship level across all Canadian medical schools.

2.

To identify obstacles faced by OTOHNS educators in delivering effective OTOHNS Clerkship training.

3.

To determine avenues for improvement of current Clerkship curricula.
Methods
An electronic survey was sent via Survey Monkey™ to OTOHNS undergraduate directors at each of the 17 Canadian medical schools. The survey consisted of 38 questions, both quantitative and qualitative in nature. Themes of the survey included:
Clerkship structure and content, including objectives and clinical exposure

Teaching methods, as well as tools and resources utilized as teaching aids

Recruitment of and faculty development for physicians in teaching roles

Innovations, strengths and obstacles identified by the responders
Quantitative data were analyzed using Excel™ and Survey Monkey™. Qualitative responses were reviewed for themes.
Results
Responses were received from 13 of 17 institutions, a rate of 76%.
1)

Structure

Significant variation exists across Canadian medical schools with respect to Clerkship structure. All responding schools have an OTOHNS Clerkship program. The majority (6/13) offer OTOHNS as a selective rotation only, usually two weeks or more in duration; five schools have mandatory rotations, usually less than one week in duration. Two institutions offer OTOHNS as part of student-arranged elective rotations only (Figure

2

).

Figure 2

Clerkship structure.

Formal written learning objectives are in place for 12/13 programs, but the extent to which they are used to guide assessment of competency was unclear from our survey.
2)

Content

CanMEDS roles are addressed to varying degrees at each institution, but universally the Medical Expert role is heavily emphasized (64%) (Table 2). Areas of greatest clinical exposure include General OTOHNS (78%), and the subspecialties of Pediatric OTOHNS (70%), Rhinology (78%) and Head & Neck Surgery (70%). All of these are generally at tertiary care centres (Table 3). Only 5/13 institutions consistently offer OTOHNS exposure outside the tertiary care setting.
3)

Teaching methods

Teaching opportunities vary widely from school to school, but most commonly include combinations of experience in the ambulatory setting, exposure to the operating theatre, attendance at grand rounds, and provision of learning resources (Table 4). Teaching is mainly achieved through didactic (58%) and one-on-one instruction (75%). Two-thirds of responding schools provide Clerks with OTOHNS-specific learning resources. Of these, e-resources are most common (60%) - these may include websites, power-point modules, apps, podcasts, etc. Other forms of learning resources provided include textbooks (13%) and OTOHNS handbooks specially designed for clerks (38%). One-third of programs offer no specific OTOHNS learning resources to their students.
4)

Physician involvement in teaching

On average, each institution reports five to ten or more physicians involved in clinical teaching of clerks, and two to four physicians involved in didactic teaching. Excellence in teaching is recognized in various ways at each institution, and may include combinations of presentation of teaching awards (33%), provision of a stipend (26%), consideration for promotion (40%), consideration for allocation of resources (20%), recognition by department chair at the annual review (47%) or within a departmental newsletter (20%). 20% of responders report no special recognition or remuneration in place for teaching at their institutions. Fewer than half of institutions offer professional development courses in teaching and learning to their OTOHNS physicians (Table 5).
5)

Strengths

A number of common themes were identified by responders across all programs with respect to strengths and innovations:

All programs receive satisfactory (50%) to excellent (50%) feedback from the clerks coming through their services.

Responders perceive that students are offered wide clinical exposure through ambulatory clinics and in-patient interactions, with a high level of one-on-one mentoring from staff and residents in the clinical setting.

The development and incorporation of electronic resources as teaching tools is becoming increasingly popular among all institutions polled.
6)

Obstacles

A number of obstacles to the effective delivery of OTOHNS education in Clerkship were also identified by the responders, and these generally centred around five main themes:

1.

Insufficient teaching space, resulting in a decrease in the independence afforded to clerks when they are forced to follow other learners or staff thus decreasing the opportunity for active learning. Similarly, there are often too many clerks for the number of available teachers, again decreasing teaching and learning time.

2.

Lack of dedicated teaching time, both due to short rotation lengths and busy clinics.

3.

Common obstacles to effective teaching include wide variation in clinical exposure even within institutions, insufficient available teaching tools such as online videos, e-modules, video scopes (otoscope, laryngoscope) and monitors.

4.

Insufficient knowledge and training among physician teachers of new effective teaching strategies.

5.

Lack of strategies that encourage dedicated physician teaching which include but are not limited to recognition, training, compensation and promotion (Table 6).
Table 2
Q.10 - How well are the following CanMEDs roles taught during the OTOHNS clerkship at your institution?
| | Not at all (%) | Somewhat (%) | Well (%) |
| --- | --- | --- | --- |
| Medical expert | 0.0 | 35.7 | 64.3 |
| Collaborator | 7.1 | 57.1 | 35.7 |
| Communicator | 7.1 | 50.0 | 42.8 |
| Scholar | 7.1 | 64.3 | 28.6 |
| Manager | 28.6 | 42.9 | 28.6 |
| Professional | 14.3 | 50.0 | 35.7 |
| Health advocate | 14.3 | 57.1 | 28.6 |
Table 3
Q.9 - Are your students exposed to the following in the UME clerkship rotation
| | Always | Sometimes | Never |
| --- | --- | --- | --- |
| General | 78.6 | 21.4 | 0.0 |
| Laryngology | 38.5 | 53.8 | 7.7 |
| Pediatric | 69.8 | 30.2 | 0.0 |
| Rhinology | 69.8 | 30.2 | 0.0 |
| Otology | 46.2 | 53.8 | 0.0 |
| Facial Plastics | 0.0 | 92.3 | 7.7 |
| Head & Neck | 76.9 | 23.1 | 0.0 |
| Reconstructive | 23.1 | 61.5 | 15.4 |
| Audiology/Vestibular Testing | 14.3 | 78.6 | 7.1 |
| Speech Language Pathology | 0.0 | 64.3 | 35.7 |
Table 4
Q.5 - What components are included in your standard OTOHNS clerkship curriculum?
| | % |
| --- | --- |
| Ambulatory clinic | 86.7 |
| Operating theatres | 80.0 |
| On call | 20.0 |
| Audiology | 6.7 |
| Speech language pathology | 0.0 |
| Departmental grand rounds | 40.0 |
| Dedicated UME seminars | 46.7 |
| Simulation | 6.7 |
| Mandatory e-learning modules | 13.3 |
| Recommended e-learning modules | 40.0 |
Table 5
Q.30 and Q.31 - Does your department and/or university provide faculty development in teaching and learning (mandatory or non-mandatory) for your OTOHNS MDs?
| | Department (%) | University (%) |
| --- | --- | --- |
| Yes | 14.3 | 66.7 |
| No | 50.0 | 13.3 |
| Unsure | 35.7 | 20.0 |
Table 6
Q.27 - What are significant barriers in the OTOHNS Clerkship rotation at your institution?
| | % |
| --- | --- |
| Limited time with students | 71.4 |
| Limited faculty involvement | 28.6 |
| Limited space/infrastructure | 42.9 |
| Learner: teacher ratio too high | 50.0 |
| Technology without teaching elements (i.e. scopes without video) | 64.3 |
| Lack of recognition for MDs with UME involvement | 42.9 |
| Lack of innovative teaching tools or their awareness | 35.7 |
Discussion
The landscape of undergraduate medical education in Canada is changing resulting in an immense opportunity for educators. Taken together, the detailed responses received from our survey highlight a number of directions for future improvement of OTOHNS Clerkship medical education on a national scale.
Conclusion
Medicine is advancing at an increasing pace; greater depth and breadth of medical education research is helping us to better understand the teacher and the learner; and society is changing. This trifold situation has necessitated the evolution of medical education. This landscape analysis can act as a OTOHNS needs assessment, identifying strengths, development needs and gaps. By creating effective national learning objectives; focusing on higher orders of learning to improve learning efficiency; sharing critically reviewed electronic learning resources among institutions; and increasing physician recruitment and community physician involvement in teaching roles, the national OTOHNS undergraduate curriculum may evolve in tandem, both to keep pace with international standards and to meet the new requirements as put forth by Health Canada and the Royal College of Physicians and Surgeons. This study represents the first step on a long road to evolving national Clerkship OTOHNS education, and highlights many exciting possibilities for OTOHNS educators and the CSOHNS UME Working Group to further explore.
Declarations
Acknowledgements
The authors would like to acknowledgement the participation of the members of the Canadian Society of Otolaryngology - Head & Neck Surgery Undergraduate MedicalEducation Working Group in this endeavour: Dr. Khalid Ansair, Dr. Jeff Ludemann, Dr. PaulMick, Dr. Paul Mark, Dr. Tim Brown, Dr. Jonathan MacLean, Dr. Trish Uniak, Dr. AdrianeGooi, Dr. Jamie Tibbo, Dr. Andrea Garland, Dr. Nita Scherer, Dr. Safeena Kherani, Dr.Russell Hollins, Dr. Peter Spafford, Dr. Mathieu Belzile, Dr. Paolo Campisi, Dr. FrancisLing, and Dr. Lily Nguyen.
Authors' Affiliations
(1)
Department of Otolaryngology-Head & Neck Surgery, University of Ottawa, Ottawa, Canada
(2)
Department of Otolaryngology-Head & Neck Surgery, Western University, London, Canada
Copyright
© Kelly et al.; licensee BioMed Central Ltd. 2013
This article is published under license to BioMed Central Ltd. This is an Open Access article distributed under the terms of the Creative Commons Attribution License (http://creativecommons.org/licenses/by/2.0), which permits unrestricted use, distribution, and reproduction in any medium, provided the original work is properly cited.